It's because I've been busy with school!

Hahaha and I figured it would be lame if each day I was all 'I learned _____ today in modeldrawing/patterndrafting/studio/fashionillustration/textilescience' but was again too busy to do a write up on something else interesting ...
but tadah~ our first illustration project- kids swim suits!
ah the more I look at it the more I dislike it actually!  I'll definately do a better job on our next assignment! (male model heads- yum<3)
(next time I'll just scan in the fashion figure part if I can do so without wrinking the paper...)
Speaking of assignments though- I just got back from doing a shopping report for my illustration class.
We were supposed to hit up some designer stores at Melrose and then sneak photos/notes so we could draw flats of the clothing later and take notes on things like price, fabric, current trends, customer base ect.  
It was a little nerve wracking- I'm sure it didn't take that long, but it felt like scribbling down the fabric blends and taking pictures took forever! And I felt super bad when not buying anything,  the sales girl at Betsey Johnson was especially nice.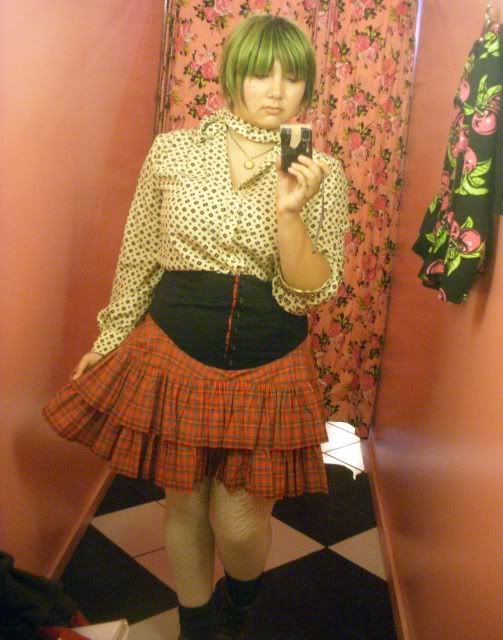 Agh but that skirt was around 200$! I'm not starving (YET) but a purchase like that would K.O. my wallet!
Where did I end up hitting up? Diesel (omg LOVE how their store is decorated!), Marc by Marc Jacobs (I love the neon reversable leather bags ;3;~~~~if it had some sort of closure I'd be all over it!), Paul Smith (I didn't know about this store before and fell in love with SO MANY of their stuff! The jacket I took photos of was around $2500 but it was gorgeous ;3;~), Theory, and Betsey of course!
We also went into Alexander McQueen to drool eventhough it wasn't on the assignment!  In real life.... it's breath taking. It almost justifies over 200$ for a screen printed t-shirt! Almost!
On our way back we decided to go to Beverly Center to check out some stores we could actually afford and eat.  I ended up buying a pair of black opaque leggings.  Yes, I've given in to the trend...
At Forever 21 we spotted the actress Bai Ling trying on crazy sunglasses xD I know she's always getting ragged on for her clothes, but hey, flats, booty shorts, and an Ed Hardy hoodie? More power to you home girl!
(so far for random celeb sightings, we have a gay porn star, Will-i-am and now Bai Ling- LA is an intresting place xD) 
Annnnd I believe I said I'd be doing daily snaps in this too? hahaha sorry for not including them so far-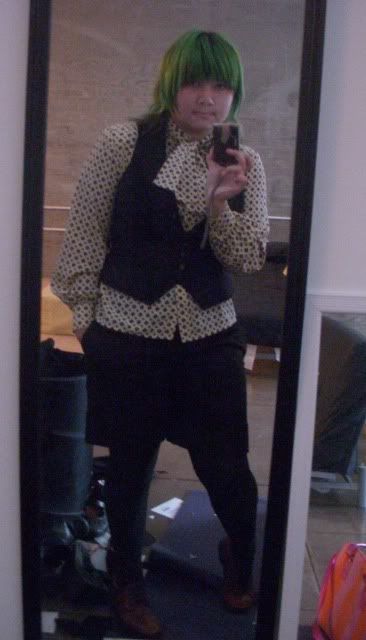 here's what I wore on tuesday~ (Yeah I'm wearing the same blouse today xD') 

Type rest of the post here